Posted by Casey on March 6th, 2007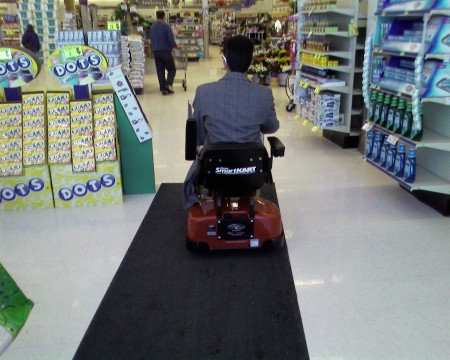 Hey all! Well, I'm back in Minneapolis, staying at my loft. The picture above was taken this weekend. Aaron came down to Mankato to visit and we cooked a great dinner for my parents. The electric cart was a better option of shopping for groceries than walking. :)
It's good to be all the way home. My butt is still sore and I'm having some tests to see what's going on. Right now they think it might be a result of having been on a hard surgery table for so long, combined with coming off of an anti-inflammatory med, combined with 20 hours of driving home, combined with not being very mobile. Go figure! Either way, I'm hoping it gets better as I want to be able to get out and see people while I'm here for the next two weeks, before heading back to Houston for six weeks of radiation. I'll keep you posted.
Thanks to all of you for the continued support. I'm still working through the long list of people to get back to, but know that I will talk to you soon. It never fails to amaze me how many loving people are in my life. I'm lucky.
On Sunday/Monday I'll be back in Houston for a night to get set up for the radiation that starts the following Monday. Mom and I are going… FLYING this time (I've sworn off cars for a while)… and I'll update you once I know more about that schedule upon my return.
For now… much love.