Posted by Casey on May 23rd, 2010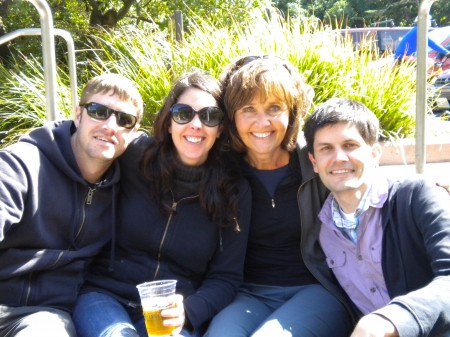 Where to begin? First, my apologies for the long delay in updates. As has been the case lately, work eats up a lot of time, and by the end of the day chemo has me exhausted. So at night instead of being social I'm either sleeping or watching Glee (or Nurse Jackie, or United States of Tara, or……. too much tv).
So what's happened in recent weeks?
I had been on my standard chemo cycle, and completed round #7 earlier this month. Unfortunately, that same week I received an annoying reminder of my jaw radiation that I had over 12 years ago for osteosarcoma. As some of you may know, the radiation not only destroyed my skin and gums, but also the roots of the three teeth that were in its path. And in the years since then I've lost two molars, and each time they pulled the tooth there was very little left of the roots. Well, I was having some pain in the third tooth (the second bicuspid for all of you dental nerds). I went to an oral surgeon for an x-ray and there were hardly any signs of roots for the thing. Obviously I needed surgery, but when he went to pull the tooth, pliers in hand (and around my tooth), it took the slightest pull the yank the thing out. There was nothing holding it in. Still, I had to deal with the annoyances of the surgery, plus extra antibiotics and gargley mouth washes since I'm already on chemo and really shouldn't be having surgery of any kind.
The recovery was basically fine, but this little interruption did cause a bit of delay in the chemo cycle. Given the risks, my doctors decided it best to hold on two Avastin cycles. As a reminder, Avastin's job is to cut blood supply to the tumor. Obviously cutting blood supply to a healing wound would not be good! So I should be going in tomorrow morning for Avastin, but instead will just be getting blood work to get me set for chemo round #8 next week.
In the meantime, life has been zipping by. The weekend after the tooth excitement was Mother's Day weekend. Mom and I flew out to be with Jill & Ben (and Ruby). It was a short getaway for me — only three days — but still nice to be out there. Mom was able to spend a few extra days. We got to spend some time out in the beautiful weather, including a round of frisbee golf in Golden Gate Park. I hate to brag, but I seriously kicked ass. I had the highest score! When I threw a frisbee right at mom's back… fifty feet away, to my left (not even in front of me)… I knew it was going to be bad. Seriously, I am horrible. But we had plenty of laughs!
I flew back on Monday for a couple days of work and then was off to Houston that Wednesday. This was one of the shortest visits in time spent actually in tests. It was pretty much just blood and an MRI, followed by visits with Dr. Wolff and two student doctors (one of them actually Dr. Wolff's daughter!). All tests turned out well. The MRI showed no changes since the last one in March — a good sign. With the tests going so quickly I was able to spend a bit of time relaxing — dinner with my friend Mark, a screening of How to Train Your Dragon (which I recommend), checking out some new restaurants, and of course, ice cream at Amy's. I'll be going for a much more extensive series of tests in July.
And now already a week has passed since I got back! This week was back to the busy world at work. But I was able to also spend some time finalizing an upcoming vacation with Jill & Ben. We're going to spend about 10 days in Paris next month! I cannot wait for the getaway. With few small exceptions, it seems the only time I'm away is for medical reasons, which is NOT vacation! So we are counting down the days!
Hope you are all doing well!
Love,
Casey