Posted by Casey on February 14th, 2009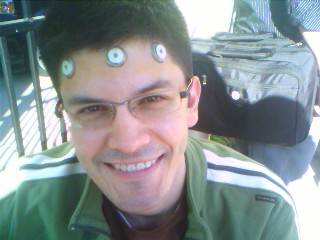 Just wanted to wish you all a happy Valentine's Day. It's not a holiday I've celebrated much in it's typical style, but for two years I've celebrated as the anniversary of my surgery. And about this time two years ago, I was getting back to my hospital room with my family after my successful surgery.
Mom and Dad were up last night and we went for dinner and it came up in conversation as one of those "wow" moments… it's hard two believe two years have passed!
A brief update on seizures, medicine, and all that fun stuff: I'm smack in between visits to Houston, and will be scheduling my MRI in Minneapolis for the coming weeks. I've actually been delaying it just because work has been so busy.
I've been having more intense seizures again, and the last time I updated you all, I had been put on Inderal in hopes of dealing with my migraines. After almost two weeks of being on the drug, I had a very intense dizzy spell at work. It was something like walking on jello in a marching band, or at least that's how I was describing it at the time. Very freaky though. I called the team in Houston and we lowered my dose, and since then I have only had very mild dizzy spells. The seizures have remained though… my most recent being yesterday in the middle of a conference call at work. They're frustrating, but I'm trying to avoid the stress that only makes them worse. Hopefully they're only temporarily stronger. If they're still not resolved by April/May (when I return to Houston), I imagine we'll be trying new drugs. That has it's pros and cons, as my current meds have the least amount of side effects.
Along with the meds, the Houston visit will be my annual colonoscopy, bone scan, MRI, blood work, EEG, and all the other fun stuff. I'll keep you updated!
Hope you're all thawing from our long winter.
Love you.
Tags: blood work, bone scans, eeg, migraines, mri, seizures, surgery