Posted by Casey on April 22nd, 2008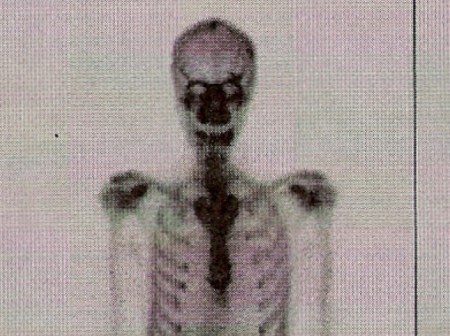 Well, a tough few days of waiting for word from the doctor has finally ended. I spoke with Dr. Wolff's nurse at M.D. Anderson, and got good word.
For the colon biopsy, the word is that there is no sign of cancer. 100% certain.
For the bone scan, it isn't quite as simple. I'll share the radiologist's verbiage:
1. Eccentric abnormality in the posterior aspect of the marrow space of the mid left tibia seen only along the posterior margin at the medullary intracortical interface with some adjacent changes in the posterior cortical wall. This is more in keeping with a mechanical injury, possibly even a stress related phenomenon and is highly unlikely to be neoplasm since there is no mass effect but only remodeling in the posterior cortical portion of the mid tibia and reflective into the edematous reactive changes on the inner aspect of the marrow. Soft tissues and other bony structures are intact. 2. Right distal tibial stump is intact with adequate soft tissue and some mild reactive features consistent with use in the distal portion of the tibia but there is no finding of breakdown infection or recurrent disease in the right tibia or stump.
If you're saying "huh?", then we're in the same place. But I'm glad that there are talented people out there who can safely say that my leg is in good shape. In reading this, and in receiving clarification from the nurse, things look more like a stress fracture(s) in my leg… quite possibly from me hopping around on one leg all too frequently. This will likely be monitored closely, since they can't guarantee without a biopsy, but for now it sounds very good. I heard all this and finally felt like I was breathing again, rather than holding my breath like I had the previous 3 days.
When I read the second part about my "stump", I cringed. I've always hated that word, but quickly burst out laughing when I remembered on my ski trip that one of my trainers told Jill and I that it would be better if it was named something like "Susan". And of course, the name stuck. So now you can re-read it and replace "stump" with "Susan".
Thanks for so much support. I'm always amazed by the amount of caring people I'm surrounded by. I very much appreciate you all being there. And I'm happy and oh-so-relieved to be delivering good news.
Much love.
Casey