Posted by Casey on March 17th, 2008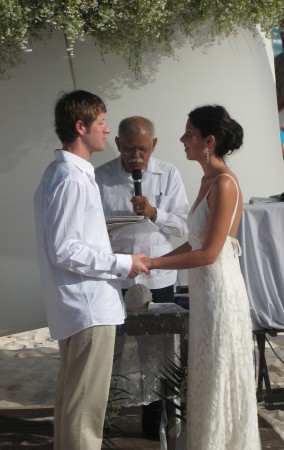 I just returned from a week of celebrating Jill & Ben's marriage in Playa del Carmen, Mexico. It was an incredible week, filled with relaxation, parasailing, lounging on the beach, snorkeling, and a cruise up the coast on a catamaran… all with about fifty of Jill and Ben's friends and family. This all led to the most
beautiful wedding ever seen, with two people who've been committed for more than a decade exchanging vows and rings on a sunny, gorgeous day.
I know everyone says that their sister/daughter had the most beautiful wedding, but I actually mean it. :) The day was filled with smiles, great food, a fantastic band and tons of dancing, all on a quiet stretch of stunning beach. It could not have been better. Except my fumbling to find the right words to express all
of this in my toast. I think I still got my point across.
Getting to see two people who've been together for some time still be so moved, often through tears, and so obviously in love, was a powerful reminder of what it's all about. I love them both so much, and am happy to officially have Ben as a brother.
Congrats to Jill & Ben!
———
To update you on the medical stuff… I'll be heading back to Houston in April. This will be my first annual checkup, complete with colonoscopy (can't wait!!), bone scan, blood work, MRI, etc., etc. It will most likely be Dad and I heading down for four days of appointments. I'll let you know how it all goes!