Posted by Casey on December 13th, 2007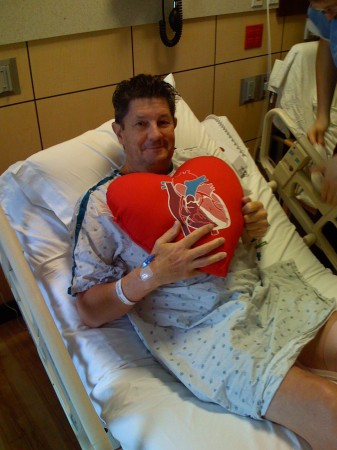 First off – Dad made a great recovery from his surgery. He spent a few days in the hospital, and is now back at home. He still experiences some pain, especially when he coughs or has to roll around too much. And he is very limited in how much weight he can lift. But he's got a heart pillow (as you can see in the picture) that he hugs when he coughs to keep good pressure against his chest, and that seems to help with the worst of the pain. I'm glad he's back home… recovery is always easier on your own turf.
Now comes the real test… Dad has to learn how to eat a better diet. One that is far more fitting for someone who has gone through these heart-related issues. It's going to take a lot of effort on his part… I worry about this a lot, because Dad is almost as stubborn as I am. I keep telling him this is his version of chemotherapy — It completely sucks, but it's just something he has to go through to be better off in the end. Plus, once he gets used to a healthier diet, he'll learn to forget the shit that caused this to happen in the first place. And I expect him to do it, because I need/want him around for a long, long time.
Thanks for thinking of him and sending good thoughts his way. It clearly worked.
As far as my health goes, I was at the neuro-oncology center yesterday for an MRI and visit with Dr. Trusheim. The scan isn't showing any change, so he seems very happy with my current state. It was a very quick appointment… kind of a nice change from what they have been. But the clinic itself, part of the same hospital/clinic where Dad had his surgery, is feeling a bit too much like home, so I'm excited to stay away for a while. This was good news.
I will be going to Houston in January. But not before I spend a week learning to ski again! Dr. Anderson asked me to join the pediatric cancer survivors ski trip in Park City, and I can't wait to see a bunch of kids learning to ski. I imagine it will be rather inspiring. Jill even gets to join. It's the first week of January. After that I'll be flying from Park City to Houston for a day of appointments, and then heading home. As always, I'll be keeping you posted.
For now, it's just prepping for the Holidays. I'm not exactly sure what my family will be doing. But it will be nice to see us outside of hospitals! Happy Holidays to you and yours.
Love ya.