Posted by Casey on November 30th, 2007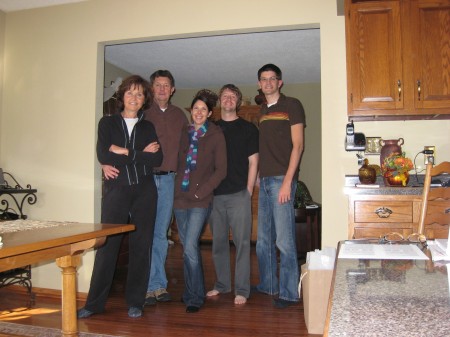 Some of you have heard, and some of you have not. But Thursday started out as a rough morning for my Dad… something that felt a lot like heartburn was keeping him awake. Nothing seemed to help and by the time he was about to head to work he was concerned enough to go to the doctor instead. A scan showed some enlargement of his main artery where he's already had a few stents added in recent years. He was brought to Minneapolis in an ambulance to Abbott Northwestern (the one we've used so many times that's connected to my loft). Mom raced up behind him, and I immediately left work. We met up and waited for results of several tests, and a recommendation on next steps. We assumed he would need another stent.
After an internal ultrasound of the artery, an external one of his chest, and an EKG, we learned from the doctor that his first stent was no longer spread completely to the outside of his artery. Instead, the artery had some form of an aneurism and spread beyond the outside of the stent. He told us the risks of keeping it as is… that 10-15% of these cases would have serious issues, and 50% of those would be fatal. And he told us of his recommended option… to have an immediate bypass surgery that would create a separate path around the troubled area for free blood flow. Clearly, there wasn't much of a decision. We sort of like having the guy around. :)
A surgery was scheduled for this morning (Friday, Nov. 30). We met with a dietician who explained some major changes that Dad is going to have to make. No more salt shaker, no more fatty foods. It's time to take the healthiest route possible. I apologized several times because I already know I'll be quite a nag about it. I love him too much!
At 10:30 he was being called in for final prep, and we had to quickly say goodbye and wish him well. There were a thousand I love yous, and for me a bit of nervousness… I had never been the person standing and looking at the guy on the gurney. It was always the other-way-around. When he was wheeled away, Mom and I were left to wait a few hours while he underwent surgery.
The surgery ended up taking 2.5 hours, and we were called back to meet with the doctor and learn that it was very successful. The operation turned out to be a double bypass, which had been hinted at as a possibility. Both were completed very successfully using a leg and mammary/chest veins. Dad made a joke before surgery about "no more breast-feeding". :)
When we finally got to see him, he was in a lot of pain. His chest had been opened up, and he had just completed a major operation. But just getting to see him look back at us was all we needed. He is in an ICU so we didn't get to stay long. Mom and I walked to my loft, took quick naps and went back to see him again. Even after just a couple hours, we could already see so much more of Dad back in his eyes and face. It was so much relief.
He'll be in the hospital for several days, going through a lot of therapy and baby steps toward less pain and more strength. And for the next six weeks he won't be able to work. Instead, he'll focus on his strength, his diet, and getting ready for Jill & Ben's wedding. These are obviously the most important things for Dad, and I am so anxious to see him get there.
I'll keep you posted as he progresses. In the meantime, think some good thoughts.
Love you.