Posted by Casey on July 19th, 2007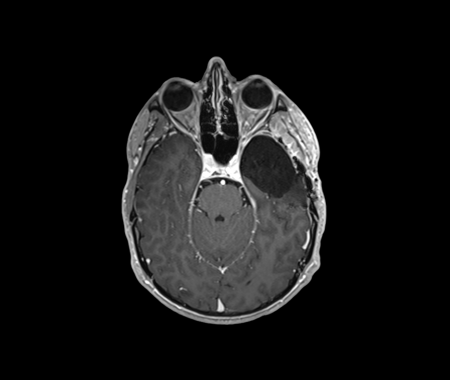 Today was my monthly MRI and neuro-oncologist appointment. I think I'd almost forgotten about it in the days leading up to it. We had said goodbye to Delmar, I caught up with family, I was busy with work. All of these things kept my mind off my appointment, until suddenly I woke up this morning in a bit of panic.
I had my MRI this morning and was left with a two hour wait to get the results. It always feels like such a long wait, but today sort of flew by and suddenly I was in Dr. Trusheim's office to hear the words, "your scan looks good".
I didn't need to hear anything else. It was all that mattered. But I decided that I'm paying enough for the appointment, so I stuck around. :)
He showed me the big empty spot in my head, that was once brain that turned bad. You can see it above — the dark circle on the right about 1/3 the way down. It's actually the left side of my head, and that big round circle was once brain and is now just fluid… a bit of a miracle, if you ask me. And around that circle, no signs of any change that would cause concern. Phew!
We went on to speak about the recovery period. I'm still in the very early days of recovering from the surgery and radiation. I actually thought it was 6 to 9 months, but according to him, it's actually 1 to 2 years. He stressed the importance of minimizing stress, getting plenty of rest, and knowing when to say when. And all the while I was realizing I've let stress get to me far too much lately with work, my loft, life in general… things that I need to let go of a little. Health is #1.
When it was all done and I walked out the door, I called Mom and Aaron, and for some reason could only cry. I was quick to point out that it was all good news, but it was all I could do.
A combination of talented doctors, hope for good health, maybe even Delmar watching out for me. Good news, in a difficult week.
Tags: appointments, mri, trusheim