Posted by Casey on April 16th, 2007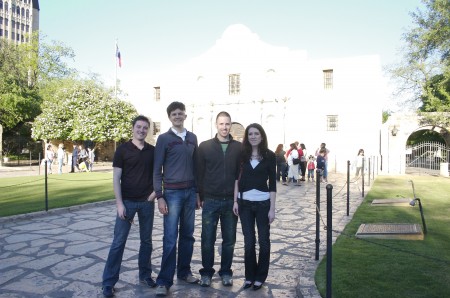 That's the Alamo in the background of the photo. It's a bit difficult to see, but I like the photo as it's a good reminder of the great time I had this weekend with Aaron and two of my cousins – Meg and Tony.
Tony flew down on Saturday from Omaha. Aaron and I picked him up at the airport that morning and headed straight to San Antonio from there. We spent the day in the pool and hot tub at Jan & Jim's house, which we had all to ourselves as they were off golfing and gambling in Nevada. That night we headed into downtown for some entertainment and great food, both of which are incredibly easy to find at the Riverwalk. The weather was beautiful, the scenery was incredible, and the company I was with were perfect in reminding me of the best parts of life.
When we returned to Jan & Jim's we spent a couple of hours in the hot tub before heading to bed. The next day started in a similar way — hours in the hot tub and pool. Later that afternoon we headed north to Austin where we were invited to join the Furey family for a tasty burger dinner at a little outdoor diner. I hadn't seen them in years. I miss them! We were only in Austin for dinner but I will be returning in two weeks with my sister for a bit more time.
I had to say goodbye to the Furey's, including Meg, which wasn't easy. And then it was time to return to San Antonio where Jan & Jim had arrived home from their getaway. It was also time for dinner number two, which was steak and lobster, and incredibly tasty. Tony, Aaron and I helped Jan & Jim prepare it all, but only after the five of us made a quick stop at Dutch's — a hole-in-the-wall bar that is something only the Pille family knows much about. It was a treat. Dinner was filled with great food and conversation, and ended some time around 10:30. It led to another night in the hot tub. The hours quickly passed and suddenly we found ourselves waking up to head back to Houston once again. It was a little more difficult to leave this time. I knew I wouldn't probably get to head back to San Antonio again while I'm here for radiation. I smiled when I first thought of it as I realized the radiation will end soon, but then I also teared up a but realizing how lucky I've been to be so close to these amazing family members that I've never been able to see this much before. So Jan and Jim – THANK YOU for providing an amazing escape. I love you.
Today brought in the last day of Week 4. It was a routine day of radiation. Tonight brought Aaron, Tony and I to an Astros game. It was filled with hot dogs, pretzels, random crazy people, and great company. I felt incredibly lucky to be there. And we had a fantastic time.
For now, I'm off to bed. It's a bit late and I'm a lot tired. :)
Love you.
Tags: proton radiation