Posted by Casey on April 10th, 2007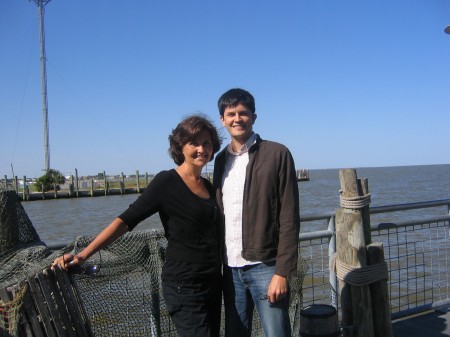 The third week is complete. And that means I'm halfway done with radiation. I can't believe how quickly the time has gone by. I'm super grateful for that. Initially I thought six weeks was an eternity. Now I know it's not all that bad.
The three week mark also meant the end of Mom's stay with me. She was great to have along, and despite being stuck in a city we knew nothing about, we ended up finding good entertainment and tasty food, which made the time go rather quickly. So I owe her a lot of gratitude. Thanks Mom!!
Mom and I flew home together on Saturday morning. She drove home and I got to stay overnight in my loft for one whole night. :) On Sunday I returned to Houston, this time with Aaron. We flew down together that night. I missed him a lot, as I hadn't seen him in such a long time. It was nice to have him join me! Now it's our turn to find new places to try, new things to pass the time. I'm rather confident that it will be just as easy.
Aaron was also the lucky one to witness my hair falling out. The area closest to my tumor (right above my ear and forward) quickly came loose over the weekend and I'm now entirely bald in that region. It was all too reminiscent of when I lost my hair on chemotherapy, though it wasn't as difficult as I thought it might be. Now I just have to think good thoughts that it grows back when this is all said and done!
I had appointments today with a neurologist to discuss the partial seizures I had a week or so ago, as well as to have an EEG to study my brain activity to see if it gives any hints at what might have caused them. Those results aren't back yet, but in my conversation with the doctor it seems we'll be monitoring the coming weeks with me on the higher dose of my medication, hoping that controls everything. We also discussed my memory and fatigue levels. It's not uncommon for there to be issues with these things starting about halfway through treatment (which is where I'm at) and he informed me that if they do come about, that they're only temporary and will recover 100%. This was very comforting to learn. Though my memory is/was never perfect, I'm happy to hear that if it becomes worse as a result of this treatment, that it will go away.
I guess that's it for now. Will keep you posted on progress. Love you all!
Tags: proton radiation