Posted by Casey on April 2nd, 2007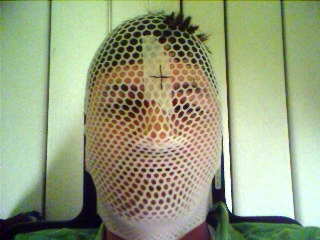 The picture above is me, today, locked to the table just after finishing Day 10 of radiation. It's part of the daily process, but today marked another week down. I'm now 1/3 complete.
After our return from San Antonio last Monday it felt like the week might go slowly. A fun weekend turned back to the weekly cycle. But suddenly it was moving along. On Wednesday, Mom and I were off to see the musical Wicked. It was a great show, and an incredibly thoughtful and entertaining break, courtesy of some of Mom's coworkers. (Thank you!)
Thursday passed by and once again it was Friday, and time to leave for weekend #2 in San Antonio. We were excited to get out of Houston again, although I experienced a couple partial seizures on Friday which made it somewhat frustrating. The seizures were very similar to those I have experienced before, and I knew that they were a possibility. Still, it's no fun to experience them… especially so many in such a short time.
Regardless – we arrived in San Antonio for another relaxing weekend. Once again, it was filled with great food, great company, and a great hot tub & pool to relax in and forget about the medical world for a while. On Sunday we spent about 4 hours lounging around in the pool (me with layers upon layers of sunscreen and a hat on) before making dinner. All the while, our new friend Arnie Palmer kept us company. Dinner was fantastic… something Jan calls the Wok-a Wok-a… I just call it delicious.
Thank again Jan & Jim for another weekend escape!
Today I came back for my weekly radiologist appointment and was quick to voice my concerns about the partial seizures. My doctor connected with my neurologist and they have decided to raise my anti-seizure medication for the time being to see if it will help with the symptoms. So for now that's the update. I'm hopeful that it resolves the problem. Stay tuned.
Finally, it's Mom's last week with me in Houston. What I thought would feel like quite a long time… living with Mom for the longest time since I left home after high-school… has actually flown by. It reminds me how lucky I am to get along so well with my family. This week we'll be celebrating my half-way point with nice dinners, sight-seeing, and more successful trips to the proton center. On Saturday we'll both be flying back to Minneapolis. Mom will head home, and I'll be there overnight, returning Sunday with Aaron who's brave enough to live in a hotel with me for the next two weeks!
Thanks for everything, Mom. I love you!
Tags: proton radiation