Posted by Casey on March 26th, 2007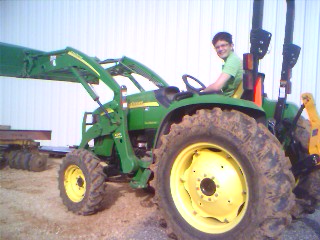 I've just returned from my 5th day of proton radiation, which means one entire week is complete. Only five more to go!
Earlier in the day we drove back from a great weekend in San Antonio. We left on Friday after treatment and, having survived a whole lot of rush hour traffic, arrived a few hours later at my aunt & uncles house. Just leaving the hotel to go have a little extra room was worth the drive, but to get to see Jan & Jim, as well as my cousin Meg, was the real highlight.
Friday night was pretty low key as we got there around 9pm. Saturday started with a visit to Jan & Jim's office to take care of a few things, one of which was straightening a bar needed to continue work on the lawn. With Jim's smarts and my amazing tractor driving skills (actually, I have no skills with the tractor) we were able to take care of the job.
After that, Jan, Mom and I went to do a little shopping. I was done after about 15 minutes so I spent 2 hours listening to the radio in Jan's car waiting for them to finish up. By the time they returned I had successfully drained the battery. Good work, Casey. We found someone to jump the vehicle and moved on with the day.
That night, Meg met up with us for drinks. Since I'm having NA drinks right now, I introduced the group to the always tasty Arnie Palmer. It was a hit. Following that, we headed down the street and enjoyed an amazing steak dinner with the whole group. Thanks Jan & Jim!
Sunday was much the same. We ran errands, cooked a great dinner, and spent good time just hanging out with family. Meg and I spent about 2 hours in the hot tub on both Saturday and Sunday night. We had good conversation and it was really nice to catch up with her. I don't get to see a lot of my family nearly enough, so it meant a lot to see these guys this weekend.
It was tough to leave, though at the same time good to know that I was that much farther through treatment… something that means almost as much having such great family to help me through it.
Love you!
Tags: proton radiation