Posted by Casey on February 19th, 2007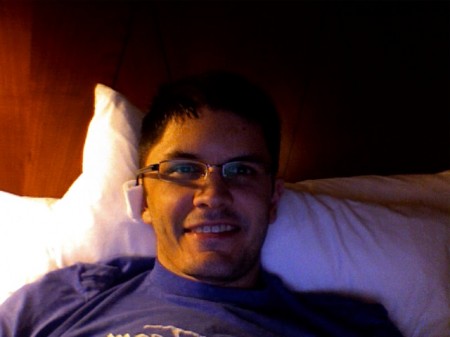 Today was actually a pretty busy day. It started out at the hospital — for the last day or two I've slowly had more and more swelling on the side of my face. Combine that with my inability to hear from that ear (something I've already been told would slowly get better) and I thought it made sense to make sure everything was alright. So we started with a trip there to have things looked at. It turns out that as long as there isn't any painful swelling or bad smell, I'm in good shape. And right now, I'm doing alright. Phew!
Leaving there, we decided it might be good to just get outta Houston for a bit. And while going much farther would be kind of tough, we knew that Galveston was close by. So we drove there. It's about 30 minutes away which was definitely more than enough of a ride for me, but also good for me just to leave and remember what life is about. When we got there we just drove around and then found a little sandwich shop on the beach. We ate in the car… I didn't even get out once the whole ride. But I got out of town which was something I needed.
Galveston seemed sort of abandoned right now. It's definitely not beach season, so I suppose that makes sense. And the selfish side of me was happy that it was quiet. I wanted peace, not panic, and it was actually pretty calming – all things considered.
Once we got back I just relaxed for a bit in the hotel while my parents went to the gym. Once they got back we heard about free dinners that our hotel has every night. So we went and enjoyed fajitas on Residence Inn. And with that new-found energy, decided that a movie sounded nice. So I'm actually just getting home from dinner and a movie (called Breach). Crazy! I have no energy left, and I look like crap. But I'm okay with that. :) It was a nice step forward.
The recovery is slow. Sometimes too slow for me. I just want to get back to living. But it's these little things along the way that are helping me get there. For those reasons and more, today was a good day.
Love you all.