Posted by Casey on February 15th, 2007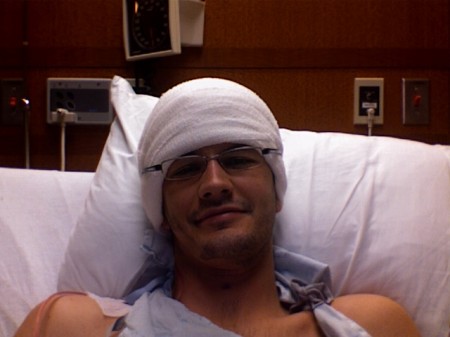 I'm absolutely amazed by all of you… sending your warm thoughts, looking out for me. I just read through all of your comments for the first time, and I can't even tell you what it all means to me. I know I have some amazing people in my life, but your support has gone well-beyond amazing. I love you.
So the picture above is me in my wrapped head, and something that looks like a denim tanktop, although it's really a gown. I just took it on my computer. Mom, Dad and Jill went home for the evening, and Aaron is reading a new book in the corner. And I decided I finally had the energy to read. I've mostly been sleeping and just awake for an hour here and there. The drugs are wearing off though, and my life is coming back. It feels amazing.
At some point I'll write more detail on being awake during the surgery. It was so unreal. Being asked to identify illustrations of animals, to read words on cards, to just have general conversation about my life… all while an insanely talented surgeon worked to slowly and accurately remove the unhealthy part of my brain. I'm more and more amazed by the medical industry every time I'm part of it.
For now, just wanted to say THANK YOU. I'm in a regular hospital room now (instead of the intensive care room that I was in). Aaron and I had a regular dinner. And while I really don't care to wear this itchy wig anymore, I couldn't possibly change a thing about this moment. I'm alive. I'm well. And I have the most amazing set of family and friends looking after me.
I'll update you more soon.
Love you.
Casey
Tags: surgery