Posted by Casey on February 14th, 2007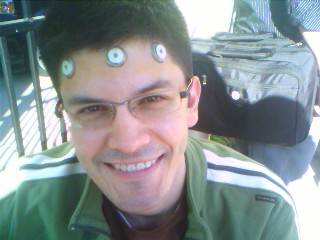 (Since Casey is in surgery resting peacefully right now, this is Aaron providing an update.)
7:00 p.m.
Casey's neurosurgeon, Dr. Weinberg, came to talk to us. He was younger than I expected — in his late 30s or so. He exuded confidence and even a hint of pride as he spoke.
The surgery went better than planned, he said. They were able to remove more of the tumor than they had anticipated, reaching difficult areas between his brain hemispheres and near the base of his brain. He held out his hands with his two thumbs and two index fingers touching, a circle larger than a hockey puck, illustrating how much tissue they removed.
Dr. Weinberg clearly liked being asked questions about the surgery and what to expect next.
Will he feel much pain tomorrow?
Dr. Weinberg pursed his mouth and said "No, some Tylenol is all he should need."
Will he still have seizures? "We hope not. He was awake for around one hour during the surgery, until he began to show a little agitation and had one seizure, which we were able to quickly control."
Will he still need to take anti-seizure medication? "That's a call for Dr. Wolff (the neuro-oncologist) to make, but probably he will."
How about his vision? "As we expect with almost all surgeries in this area of the brain, his vision probably will be limited in the upper quadrant."
Any word on the possible P53 gene mutation? "We took samples of both good and bad tissue so we should be able to more accurately test for this mutation." (A positive test indicates that a mutation is present, which would mean that Casey's genes don't control bad cell growth as efficiently or accurately as most people — which could explain his multiple experiences with cancer.)
His speech? "We were able to stay away from the speech areas of his brain, so that should be unaffected. You should wake him up before you leave and make him talk to you."
So, a little reluctant to wake him from his much-deserved sleep, Jill and I stood by his bed and said softly, "Casey… We're here to see you…"
He didn't respond. We looked at each other.
A little louder: "Casey, we love you and we're really proud of you."
His eyes fluttered open.
"Hi," he said.
That's what we were waiting all day to hear.
He will spend tonight in the ICU and should be moved to a regular hospital room tomorrow to stay for a day or two of observation.
More tomorrow, possibly even from Casey himself.
–Aaron
Tags: surgery