Posted by Casey on February 14th, 2007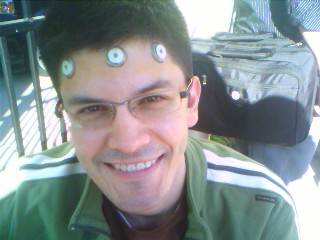 (Since Casey is in surgery right now, this is Aaron providing an update.)
6 a.m.
When we walked into the reception area at 6 this morning, the nurse asked, "Surgery today?" Like it was an option we should all want to buy, like a credit card we might want to apply for at checkout. A few minutes later Casey was in the "holding area," waiting for the process to begin. He was his usual self, smiles and steady voice.
8:30 a.m.
The doctors arrived and his family headed to the waiting room. The long hours of surgery began.
10 a.m.
The OR nurse bopped out with her infectious English accent and large hairnet and gave us an update, which basically consisted of no update: We're still getting Casey in the right position for the surgery. When I provide an update at noon, we will have begun the actual incision.
We went to breakfast. Jill's toaster popped her bread two feet into the air and onto the floor.
11:55 a.m.
The phone rang in the waiting area. "Quinn family," the receptionist said. We looked at each other. Casey's dad stood up and took the phone.
"Hello," he said. "Yes… Yes… Ok… Put him on."
A slight smile crossed his face. The rest of us held our breath. We weren't expecting a phone call.
"Hi Casey," his dad said. Pause. Another smile — very slight — appeared.
"We're all praying for you and will see you soon. We love you."
He hung up and sat down. His voice was almost gone. "That was Casey in the middle of surgery. They have him awake. He said that it's going well and that he's remembering all the cards they're showing him."
12:15 p.m. (20 minutes ago)
The English nurse updated us. He is doing very well and responding well to all the tests for memory, speech, etc. They have done the incision, but haven't yet started to remove the tumor.
"You may be getting a phone call…" she said.
Yeah, we got that.
"And did he sound completely normal, like his tooth was just being filled, not like he's in the middle of neurosurgery?"
Uh huh.
"And did the family fall apart?"
Umm, yes. Every one of us.
"That's always kind of funny," the nurse said.
Another update in a couple of hours. Keep the good thoughts coming.
–Aaron