Posted by Casey on February 7th, 2007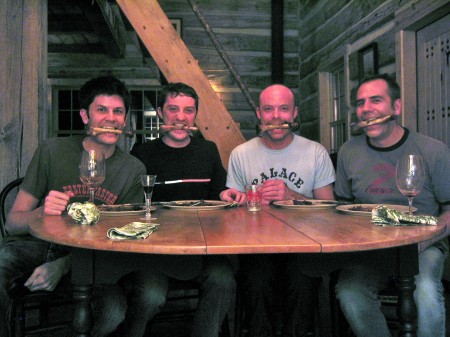 First – the image was taken from my friends' cabin. There's really no relevance to the update, but I like the photo. :) Thanks, Josh & Matt. The lamb, and your company, were fantastic.
Anyway, I'm slowly wrapping things up in Minneapolis in preparation for the trip to Houston. It's strange… at work I feel like I've given my two-week notice and I'm switching jobs or something. Only it's a job I don't want to leave. My coworkers have been incredibly supportive. I'm lucky to have them. Regardless, Saturday is fast approaching, and at 10:00am, Mom, Dad and I start the long (18 hour) drive to Houston. We're splitting the drive into two days and will arrive sometime Sunday night… just in time to pick up Jill at the airport.
A lot of you have asked about how long the surgery will be. I'm not exactly sure, but I have appointments on Monday and Tuesday where I'll find a lot of that information out. I'll be certain to post updates as they come.
Finally, since I'll be drugged up and most likely not very able to type, Aaron has agreed to offer some updates on this site right after my surgery. Hopefully that will keep you looped in. Thanks Aaron! :)
And thanks to all of you for the continued emails, phone calls, prayers, well-wishes, and reminders of how lucky I am to have you all in my life. It's turned my fear into determination… something I can't thank you enough for.
All my love.