Posted by Casey on December 28th, 2006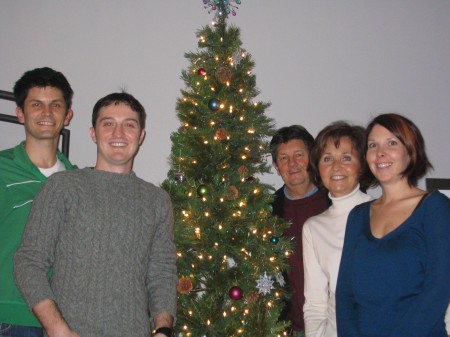 Christmas was everything I needed. It started with a drive to Grandma Pille's and a crazy couple of days with my very big family. Then off to Grandma Quinn's and good time with that side of the family. Both had lots of good food, good company, and a little bit of gambling (I won $72!). And while leaving was hard for me as always, there was a great thing waiting for when we got back to Mankato. Jill & Ben, who were scheduled to leave on the 26th for Thailand, decided to postpone the trip to spend some time with me instead. I can't quite find the words to describe what that means to me. It says a lot about the two of them, and reminds me of why I love them so damn much. I have an amazing family… from my parents to Jill & Ben, to the seemingly countless aunts, uncles, cousins and beyond. Thanks to all of them for a much needed, very special holiday.
Just a few days after Christmas I was back to the clinic for another meeting with my neuro-oncologist. It may be premature, but it seems there might have been some good news. Most of the conversation regarded a follow-up to the more detailed MRI that I had taken just a week prior. According to the doctor, the MRI showed no newly discovered spots that raise any new concerns. It also continued to support the diagnosis of a slow- or non-growing tumor. With this news, my doctor continues his belief that we should first monitor the tumor for two months. In that time, he will put together a radiation treatment program. Because of the new developments in just the last few years, the machines used for radiation are so much more detailed and focused that they can put together a treatment that would focus solely on my tumor with little to no spill-over into other areas. We'll hear more about the treatment program in a couple months, once they've reviewed the next MRI film.
I'm comfortable with where things stand for now. My doctor is connecting with the full team, so I feel like this is a group recommendation. I also connected with my previous oncologist… the one who treated me (and saved my life) at Mayo Clinic. I trust him more than anyone, and because of this have decided to visit him at MD Anderson in Houston, where he now works. I connected with him last week and he's provided me with a specialist that he works with who will see me and provide a second opinion on treatment options. I think it makes sense to get some additional thought on what I should do… it sounds like they're the right people to do it. I'll probably be heading to Houston in the next few weeks.
To all of you who made my Christmas so special… THANK YOU.