Posted by Family on February 19th, 2011
Written on Casey's behalf, by his family.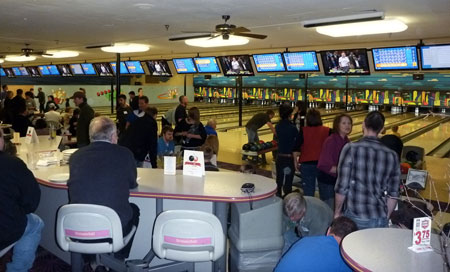 We would like to send a heartfelt thank you to Casey's wonderful friends at BBDO/Proximity for organizing such a great afternoon at Elsie's Bowling Center on Sunday. Casey was touched by the overwhelming support from co-workers, friends and family. The event was a success on many levels, and the love and support from so many people was a huge boost for Casey.
LIFE SINCE DECEMBER:
The last several weeks have been extremely difficult for Casey. In December, Casey had to leave his job at Proximity after the tumor in his brain started to affect his speech, cognitive skills, and his ability to read and write. His doctors at both MDAnderson and Abbott Northwestern agreed that his existing treatment protocol was no longer effective and recommended that Casey try a new chemotherapy.
Just before Christmas, Casey started this new chemo treatment. It was set to be a 3-day, in hospital treatment that he would undergo every 4 weeks. This treatment is quite aggressive and needs constant monitoring as it is administered through an artery that delivers the chemo straight to the brain. Doctors anticipated to see some swelling (which is a good sign that it is working), however Casey responded to the treatment with a much larger amount of swelling than expected. As a result, Casey experienced even more difficulty with speech, reading, writing, etc. He also started having difficulty with his motor skills on his right side. Furthermore, Casey had to put the treatment on hold until the swelling was under control.
In January, Casey started doing Hyperbaric Oxygen Therapy to help with the swelling. He goes into a chamber that contains 100% oxygen and has increased air pressure. He has also been put on increased levels of steroids and switched back to his old, pill-form, type of chemo to keep the tumor from growing until he is well enough to go to the next step.
On Monday, Casey had an MRI. This revealed that while Casey still has some swelling, the tumor did shrink as a result of the intense chemotherapy treatment that he did before Christmas. His doctor feels positive about this, but says that he wants Casey to continue with the Hyper-baric Oxygen Therapy for another couple weeks. Once Casey is ready, he will want to do the aggressive chemo treatment again, but either at a lower dose or in a different form.
Over the next few weeks, Casey will be in Minneapolis Mondays – Fridays to do his Oxygen Therapy. Over the weekends, he will most likely be in Mankato. Although it is difficult for Casey to read your texts, emails, cards, and comments, he loves to get them! (We are always there to help him when he needs it.) He wants to be sure to keep in touch with people the best he can. And until he is able to take over his blog again, we will do our best to keep you all informed. (although we'll never be able to write as good as he does!)
Tags: cancer, chemotherapy, tumor