Posted by Casey on August 3rd, 2010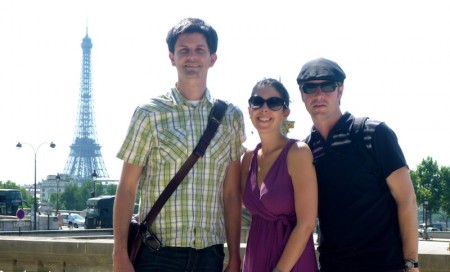 As usual, summer is flying by. It felt like a few hours ago that I was eating tasty food, visiting museums, seeing the sites and hanging out with Jill & Ben in the quaint cafes of Paris. We had a fantastic vacation… something we all needed this year. We were there for 10 days and went basically non-stop from the moment we stepped off the plane. (Except an occasional nap on my part.) Museums, monuments, parks, palaces, the Eiffel Tower, amazing restaurants… one after another… and we felt like we barely scratched the surface. I also got to see my friend Preston who lives there. It was a great time.
Suddenly I was back at work, busy catching up from being out of the office, knowing that soon I'd be out once again for a visit to Houston.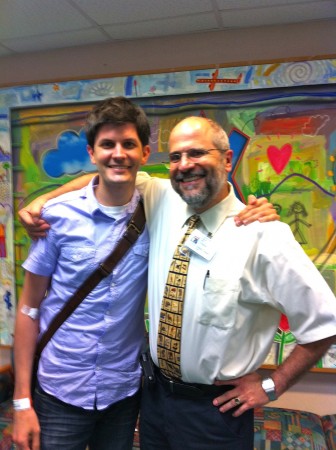 About a week before my scheduled appointments, I received a call from Dr. Wolff's nurse. She was calling to inform me that Dr. Wolff was no longer with M.D. Anderson. "What??" I was shocked. According to her he had landed a wonderful opportunity with a center in Boston, and was originally scheduled to still see me but had to make a change in his plans. She went on to ask if I still wanted to visit for my appointments. It was my annual/full checkups, added to the fact that I'm still on chemo, so I didn't understand why that would even be a question. Of course I needed to go! I flew down last Tuesday, and in starting my appointments quickly found out that Dr. Wolff was able to stay through the week afterall. Phew!
As mentioned, I was not only there for the standard brain scan, but also for what is now my annual visit for the more extensive testing where we check more of my body for potential tumors and recheck the old areas. As a result, I spent 3 days in tests rather than the normal 1 day.
On Wednesday I went through a bone scan, an electroencephalograph, blood work, and an MRI of my brain and neck. Thursday continued with an ultrasound of my abdomen, and two very lengthy MRIs of my abdomen and pelvis that lasted until 10:00pm. And Friday ended with more blood work, two more MRIs (t-spine and l-spine), and finally visits with both Dr. Slopis and Dr. Wolff and a surprise stop-in by Dr. Anderson.
In a period of three days I spent almost 6 hours in an MRI tube, had 5 needles in my arms, sat on other tables for other tests another few hours. It was crazy, but surprisingly simple at the same time — I've decided to use this as my annual visit for this reason. As a cancer center, M.D. Anderson has more ability to check so many areas with so many different scans for different cancers in one simple getaway. Efficiency is fun!
Perhaps you can already tell, but the results were good. Of all the tests there are only two items worth mentioning:
1) The MRI of my abdomen showed what is likely a cyst on one of my adrenal glands. It is not of any concern to the doctors.
2) The tumor in my brain is appearing exactly as it did two months ago. No growth! (Though no shrinking either.)
Given the results of all these tests, the conversation quickly turned to my chemotherapy. I'm on cycle 9 right now (starting last night), and am scheduled to go at least through October. So — how much longer? Dr. Wolff has frequently used three simple questions in what would warrant stopping treatment:
1 – Is the chemo no longer working? No, it's working, so keep using it.
2 – Has the chemo reached dosage limits or become toxic? No, I generally feel good, so keep using it.
3 – Has the tumor gone away or no longer cancer? We're not sure, and can't easily tell, so keep using it.
So that's the answer for now. I'll just keep taking it until one of those happens (obviously we hope for the 3rd). And if you asked me before I started this chemo if I'd be okay with that, I would have said HELL NO. But given the simplicity of it, and the success thus far, I'm alright with it now.
As I mentioned, Dr. Anderson popped in while I was with Dr. Wolff to say hello and check how things were going. Dr. Wolff excitedly told him the news and pointed out that it's been 10 months with no new signs of new or existing tumor growth. He reminded me (and in some ways pointed out for the first time) how lucky that makes me given the success rates of people with my grade and type of tumor. Quite simply, I'm beating the odds. I  guess it just made me that much more grateful for having that team to help me.
Unfortunately while all of this was happening I was remembering that Dr. Wolff was leaving. It was my last appointment with him! As it turned out, I was his very last appointment as an M.D. Anderson doctor. I hope he sees the success in my treatment as a great note to leave on, and wish him so much more success in Boston.
Strangely, going through all of this treatment has almost been therapeutic lately. I'm a member of the Anderson Network which has also given me the chance to work with other patients in the early stages of their treatment, getting to talk to them about their fears, concerns, laughs, awkward moments, etc.. There's a lot of us, and I like that M.D. Anderson has these kinds of resources available, and I'm happy to help out.
Anyway, that's the update. I'm off to take another dose of chemo and call it a night.
Hope you're all well. Love you.
Tags: appointments, blood work, bone scans, chemotherapy, houston, mri