Posted by Casey on October 20th, 2009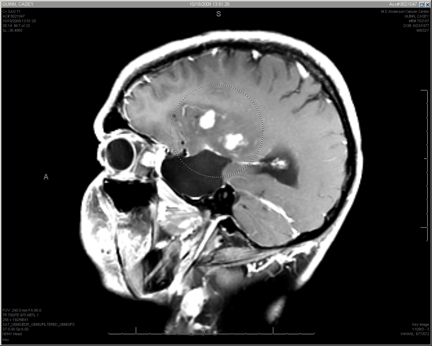 Dad and I flew down to Houston on Sunday. We spent the day watching football waiting for things to get started on Monday. (For those of you that know me I'm not a huge football fan, so clearly I was already feeling the nervousness of the appointments!) Monday morning I started with bloodwork. I then went for an MRI, followed by a new test for me, an MRS. It was the last test for the day, which meant we had a bit of free time so last night we went to see Law Abiding Citizen. It was the mediocre entertainment and tasty popcorn we needed to forget the stress.
Today started a bit earlier and lasted a lot longer. At 7:00am I had my PET CT, and then the doctor appointments began. We went to see Dr. Slopis but were quickly asked if we would visit Dr. Weinberg (my surgeon) first. According to the nurse, Dr. Wolff said that Dr. Weinberg would walk us through the results of the tests and discuss our plan for biopsy and then we'd meet with Dr. Wolff and Slopis to discuss the plan overall later. Something in her voice made me think she already knew the results. Of course as soon as Dr. Weinberg walked in he was sharing the news… the MRI is showing growth of the two spots. The latest version is posted above… the two areas of concern are circled. He also told us that the MRS supports that idea, showing that same suggestion of growth. He didn't have the results of the PET CT yet as I had just gotten out of that scan.
The conversation quickly went to the biopsy. We had been told that the biopsy would be performed on Thursday if needed, but unfortunately Dr. Weinberg was scheduled for a six-hour surgery and is now unavailable (since mine wasn't a confirmed appointment). He's not in surgery on Fridays and is out all of next week. So he gave us two options… he could recommend a surgeon for Monday or we could come back the following week and have him perform the surgery… It was an easy decision for me, so we'll be coming back on the 2nd of November to start prep for the biopsy.
By the time we made it back to Dr. Wolff's office, he was in with other meetings so we were asked to come back at 2:00. Dad and I grabbed lunch and went to sit in the park to enjoy the sunny warm weather, and keep our minds off of all of this.
We met with Dr. Wolff and Dr. Slopis and a med student for a couple of hours, discussing the PET CT, medications, treatment options, etc., etc. Most interesting was the results of the PET CT. The scan shows no signs of growth and, if anything, appears to have some level of fading of the area of focus. So they were quick to point that out as a sign of hope. Dr. Slopis also gave me a recommended switch to my prescriptions to possibly help keep more level doses and hopefully help soften my seizures. I'll be taking smaller doses three times a day instead of larger ones twice a day.
Finally, we discussed the treatment option that Dr. Wolff is leading and went to meet with Dr. Brown who is also working on the study. He explained in more detail exactly what the plan involves and how it is intended to provide more specific treatment recommendations based on the slight differences in cells in my tumor vs. cells in someone else's of the same kind (i.e., my brain tumor vs. someone other brain tumor). It's a very interesting program, and I definitely want to take part in it.
So what now? We wait an additional two weeks. I'll be coming down on the 2nd, having scads of tests on the 3rd to prep for surgery, and having the biopsy on the 4th. I'll then meet with Dr. Wolff on the 6th to discuss biopsy results and make decisions on treatments as/if needed.
Sorry for the long rambling. Just wanted to get the word out. Hope you're all doing well.
Love,
Casey