Posted by Casey on September 16th, 2009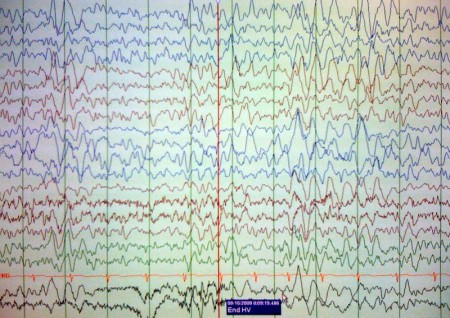 I have an update on the current plan for treatment that I wanted to share with you all. I received a call from Dr. Weinberg, my surgeon at M.D. Anderson who removed my original brain tumor. He was on vacation last week, so we weren't able to connect with him when I was in Houston. He connected with Dr. Wolff & Dr. Slopis this week to discuss the current state of my scans, and had the following to share…
In regards to the PET CT, he updated me that the final read from the radiologist noted that one of the two spots did actually show up, but very slightly. He reminded me that generally speaking, if this were a tumor, especially a high-grade tumor, these spots should show up more than they currently do. He said that because the intensity is less than expected, it could be more in line with necrosis rather than cancer.
In regards to the biopsy, he does NOT recommend a biopsy in the next week or so. After reviewing the MRI and the position and size of the two spots, the team feels it might be too risky to perform a biopsy yet. The tumors are already located in a sensitive area of my brain (remember, it was not removed during my original surgery because I would likely have had some combination of paralysis, memory loss, etc.), but these two spots are also very close to critical blood vessels and nerves. Targeting them with a needle biopsy runs major risks. If the nerves or vessels were hit while trying to perform the biopsy, I would run similar risks of stroke or paralysis of the right side of my body. So while the biopsy serves to make our next decisions for treatment, having such a small target and serious risks makes him suggest we wait several weeks to see how the tumor changes.
Because of this, I will not go back next week. Instead, we'll be working on appointments for about five weeks from now. At that time we may see growth in the tumor, but Dr. Weinberg says this would actually be a good thing in this case, as it would give him more working room for a less-risky biopsy if they decide to perform one. Further, if that decision is made, they'll be able to perform one while I'm down there that week so I don't have to fly down yet again.
Finally, it's rather easy to keep thinking of this thing as a tumor, so I asked him what the hell this "necrosis" thing really is. His response: "Casey, I'm going to give you Dr. Weinberg's Philosophy on Necrosis."
He described how post-radiation brain tissue can die, causing inflammation of that area. The inflammation then irritates more area and can cause death of additional tissue, which in turn causes more inflammation, more irritation, tissue death, etc., etc., slowly growing as this happens. In a lot of ways it's similar to a tumor, which is probably the best explanation of why it's so similar on my MRI. Obviously, I'm a believer in his philosophy.
In short, things are on hold for a few weeks while we wait for these spots to grow or change. I'll be heading down to Houston in 5 weeks, and based on those scans we'll decide if a biopsy is safe. If so, I'll have it that week. If not, we'll revise plans accordingly. Obviously it's a bit strange to me, sitting around for these things to grow. But it also makes sense and is far less risky, so that's what I'll do.
Thanks to all of you for your amazing support. I've been absolutely blown away by the comments, encouragement, prayers, and well-wishes. One thing is certain… I've been through this before and it's things like those that keep me strong and will continue to do just the same. Thank you.
Tags: appointments, houston, mri, pet ct