Posted by Casey on May 12th, 2009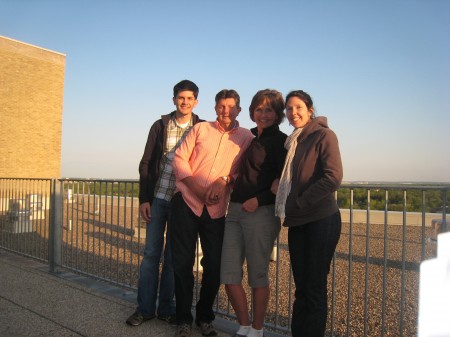 I'm back from Houston — returning home on Saturday with Mom after an incredibly packed visit. Every last minute of it seemed scheduled, with 16 appointments spread across only two days at the clinic. It barely left room for Amy's ice cream.
Over the past few weeks I had been doing a pretty good job of not dwelling too much on the appointments. But as they approached I knew they were starting to wear on me, through increased stress and occasional reminders that came in the form of seizures or frustrations with memory.
We flew down on Wednesday afternoon and arrived just after rush hour. We picked up our car and drove to a painfully familiar hotel… the one I spent a week in after my brain surgery two years ago. A single hotel room with one bed that my whole family squeezed into for that whole time… the only room in the inn at the time thanks to the rodeo. It was so strange to arrive, I immediately was having deja vu. We kept thinking about Uncle Jim bringing me steak from Ruth's Chris the night I got out of the hospital.
Luckily it was just for the first night. After that we stayed at the reliable SpringHill. Thanks again, Vicki, for all of your help.
Thursday started bright and early with blood work to measure my drug levels, chest x-ray, CT injection and scan to check my chest and lungs, cognitive testing, an ultrasound of my abdomen, and a visit with the team at the Cancer Prevention Center. The tests were all very familiar and expected, but kept us very busy the whole day. But it was nothing compared to Friday.
I was scheduled for my bone scan dosing and exam first thing in the morning, and was then to head in for a mole mapping. The process was tied to the prevention center and would map all of the moles on my body to monitor them annually for growth or change in color. Unfortunately, the bone scan ran long so we tried to reschedule for later. Instead, we ran for more blood work and checked in for my MRI thinking we'd go mole-mapping right after that. The MRI was scheduled for 20 minutes but quickly turned into 2 full hours, and by that time we were already late for my first neuro/neuro-oncology appointment. We went up to visit with Dr. Slopis and had a good discussion about the results of my cognitive tests. In that appointment I had voiced my frustrations with what seems to be a weakening ability to focus at times, most notably on the weekends where I spend a lot of time sleeping. To my surprise, he said the results of the cognitive test were outstanding, and went on to explain that a fair amount of rest to catch up from the week isn't a bad thing. We talked about ways to relax (I'm going to start enjoying Watsu even more!), and also about options for increased focus. There are some drugs I could try, but for now I'd prefer to try without. Obviously those drugs would have side-effects that could be just as frustrating. In regards to the MRI in March, Dr. Slopis agrees that it might be showing signs of growth, but isn't quite ready to agree completely. In comparing scans from Minneapolis and M.D. Anderson, it's easy to see change in sizing, but Dr. Slopis was also able to point out how some of that change might not actually exist based on how the two separate machines show results in different ways.
Next up was Dr. Wolff, my neuro-oncologist. He had spent time with Dr. Slopis reviewing all the films and reports immediately before the two appointments. The appointment focused almost entirely on the tumor and his growing concern about it's classification. He agreed that there were changes in size according to my recent MRIs, and was very open and blunt to say how serious it was assuming it were true. But he also felt that without knowing 100% what was going on, we couldn't yet plan for next steps. That said, we discussed some scenarios of chemotherapy combinations, radiation, surgery, or test treatments that are taking place at M.D. Anderson (their area of expertise). In order to responsibly recommend that next step, he felt it was important to first get additional scans completed in order to help finalize those answers.
Unfortunately, it was already 4:00 on a Friday afternoon, and Mom and I were scheduled to return home the next day. Without any options for appointments, we agreed to get the work done in Minneapolis and have the radiologist in Houston examine as needed.
Over the next couple of days I'm planning to get a PET CT or brain perfusion scan which will help differentiate some of the healthy tissue from the tumor and give better support to the doctors to make recommendations on how to move forward.
On Saturday, Mom and I flew home. We spent the day preparing for a couple of great days with the family. As you can see from the photo, Jill flew in for Mother's Day. And since I couldn't possibly beat that as a gift, I decided to torture them both with a very long bike ride (it took us almost 3 hours with a few short stops along the way). Dad joined us later on Sunday and we spent the next two nights doing nothing but fine dining.
On Monday (yesterday) I spent a good amount of time trying to organize my next appointments. Unfortunately, it's never easy to connect with the team here, and even harder to connect them with Houston so as of now, I still don't have appointments set. But I'll keep working on that and will let you know how things progress.
For now, I'm back to work and looking forward to Watsu on Monday night.
Thanks for the support everyone!
Tags: appointments, blood work, ct scans, houston, mri, slopis, wolff