Posted by Casey on January 12th, 2008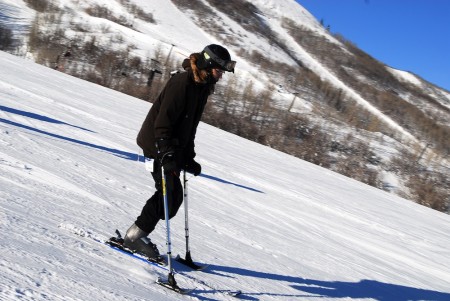 We're already about two weeks into January, but I finally have the time to wish everyone a very happy new year. I'm glad to say goodbye to 2007 and was lucky to welcome 2008 with a trip to Park City, Utah, with a bunch of cancer survivors from M.D. Anderson.
As some of you know, I was a skier before I was first diagnosed in 1995 and had some major surgery on my pelvis and then lost my leg two years later. I've missed the family trips to Colorado, but didn't give the idea much thought until Dr. Anderson asked if I would join the group. I said yes without questioning it, and was even more surprised to hear that I also got to bring a guest. I immediately called Jill.
Flying to Park City I suddenly remembered that I ONLY HAVE ONE LEG! (You can read that as panic, because it scared the crap out of me!) I had no idea how I was going to ski. Would I put a ski on my prosthetic leg to ski with both, yet run the risk of my leg falling off while being brought to the top of the mountain? Would I ski in a sit-down ski (bucket ski)? When I arrived, I found out that we would be skiing with trainers from the NAC (National Ability Center), and that each of us would have our own personal trainer… trainers who have been working with similar cases for years. I immediately let go of my fear.
As it turned out, I was encouraged to ski on one leg. I had no idea how it was going to work, but before I knew it I was out slipping, falling, but doing my best to stay afloat. In using one ski, I was given two side-skis instead of poles. These are known as outriggers, and they quickly became my friends in making it down the slopes.
A man named Tim was assigned to me. His life sounds like an adventure with work and travel, and he now gives hours and hours of his time to help people who want to ski. Later in the week, Tim was assigned patrol duty for the mountain and I had the privilege of being assigned another amazing instructor, Heike. Both of these people impressed me if for no other reason than what they give back to people in such an inspiring way. They took me from complete fear of the bunny slopes to confidence in riding to the top to enjoy the most amazing views, and skiing down. I found myself rather exhausted at times… perhaps a sign that I need to spend some time working out, but also a sign that I was given a chance to do something my body hasn't been able to do. It felt like a great challenge, and I think I did a pretty good job in accomplishing it. I owe so much of that to Tim & Heike. Thank you, thank you, thank you.
M.D. Anderson takes a group out every year. Through this amazing gift, people with one leg, people who are blind or deaf, people who have any number of issues resulting from their cancer treatment are given the opportunity to learn to ski. And it amazes me to see how much we all improved in a mere five days of skiing. And on top of that, we were climbing rock walls, dancing, and of course playing a little Farkel at night.
This is something I won't soon forget. I have so many amazing new people in my life, and I can't wait to see them again soon. To all of you, happy new year and thanks for helping me through 2007.
Much love,
Casey