Posted by Casey on September 5th, 2007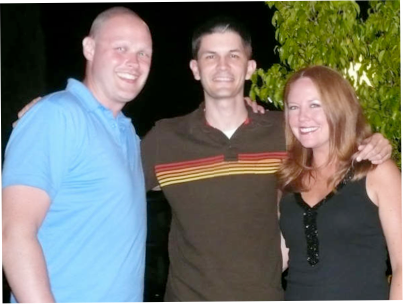 Sorry for keeping you all in the dark the last few weeks. It's easy to fall back into normal life. That's not necessarily a bad thing, but I want to keep you up to speed on the latest news.
I flew to Houston on Thursday night feeling a bit weird, as it was the first time I've been to Houston by myself, even after four months of treatment. I was generally confident that the news would be good, but couldn't avoid an occassional "what if". I had little time to think about it once I arrived, as it was sometime around 9:00pm in an insanely hot and humid (instantly wet) Houston. By the time I rented a car, drove to the good ol' SpringHill Suites I've come to know so well, and got things ready for Friday's long list of appointments, it was time to crash.
Friday morning started early and was scheduled to be a long day of appointments. It started at 7:30am with some blood work and moved quickly on to an MRI prep and scan. There is always a bit of a wait, and Friday was like any other. I changed into my scrubs and went to the waiting area to see the group of others in line for a scan. I caught eyes with a woman, Patsy from northern Mississippi, who immediately asked me in her southern voice, "How you doin' sweetheart?" And we hit it off. We chatted for a while and before she left she scribbled her and her husband's names and phone number down on a napkin and insisted that I call the next time I was down, telling me she'd come and meet me for lunch to chat some more.
Eventually I was called into my MRI by a woman named Anita who also goes by any other name you'd like to call her (or so she says). When the scan was ended she noted that someone had found my key in the waiting area, "Along with a note from Mrs. Robinson" — clearly I had forgotten my locker key, as well as the scribbled number from Patsy. We shared a couple laughs while I was putting my leg on, and when I reached the point where I needed to lock it in with a coin or some sort, I was digging through my pocket for a quarter. At the same time, she pulled out a gold coin with an angel on it. She told me how she brought it into work and uses it to wish people well, and that she wanted me to have it, to take the coin and keep it close. I smiled, took the coin, and told her I would do just that.
I moved on to my appointments with Dr. Slopis and Dr. Wolff. The first things out of both of their mouths were that the scan "looks the same". It was the damn best news I could have asked for.
I spoke a lot with both of them about recent symptoms. I only have little hints at the seizures and haven't had an actual one in quite some time. But recently I've been having bloody noses, a rash under my prosthetic, stress/mood, among others. And while they aren't directly related, I wondered if they might be tied to the medication. So we discussed. They're things I'll just have to monitor and treat individually for now, and see local doctors in Minneapolis if things don't heal, worsen, etc. They were all minimal and fell in the shadow of the good news… no signs of growth in the space that was once a tumor. Fantastic!
We quickly reviewed my next steps — another visit in late October — and I was on my way. On the way out, I saw Anita. She asked "what are you still doing around here??" I thanked her for the coin and told her the luck it had already brought me. I headed to my car. I needed to celebrate!
That night I was so lucky to have the chance to meet with an old coworker Todd and his wife Karen (pictured above). Todd and I worked together at my last job, and while I was there I learned that Todd has been fighting osteosarcoma… the same bone cancer I had in my hip, jaw and removed leg. Over the last few months I've learned of the recent treatments Todd has been going through in his amazing fight, and that he too ended up in Houston. He has been seeing Dr. Anderson, or Dr. Pete as he and Karen call him, who connected with Todd upon hearing of his fight, eventually suggesting they go to M.D. Anderson for advise. Such a small world. Todd was finishing a round of radiation on Friday, so we happened to both be in Houston.
We went out for dinner at a tasty little restaurant and had an evening filled with great conversation, sharing the good and the bad from all that we've gone through. Todd is an inspiration to me in my fight. And as he continues his treatments, I'll be sending positive thoughts to him and Karen. Please be sure to do the same. If you'd like to read more about Todd, check out:
http://www.caringbridge.org/visit/toddandrews
I left Houston bright and early Saturday morning for Michigan, ready for a fun-filled weekend with Aaron and his family. It was a fantastic time filled with sun, outdoor adventures, tandem bike rides, fudge, and much more. Exactly the right way to end the summer. Give me a shout if you'd like to hear all about it! For now, I'm off. Talk to you all soon. Much love.
Casey
Tags: appointments, houston, mri, wolff